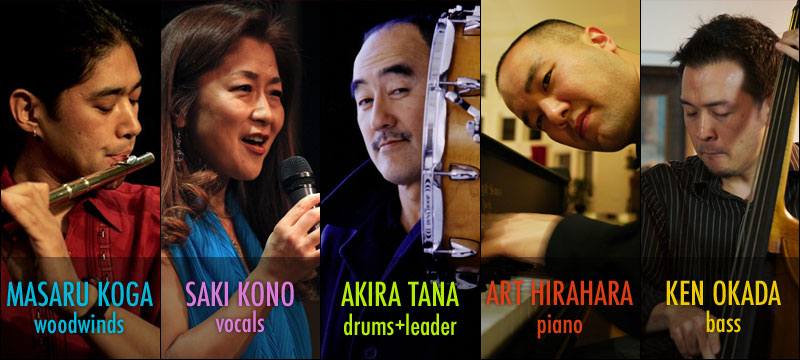 The genesis of this group, Otonowa (Sound Circle) comes from the title a recording of the same name translated into English that was released a number of years ago in Japan on King Records and in the US on Evidence Music. The group, then, was called the "Asian American Jazz Trio."
Three years ago this ensemble was reformed with the name "Otonowa," having been a asked to perform for a benefit concert by Lake Hanyu of the Elsewhere Gallery in Fairfax, Ca. for the victims of the Earthquake/Tsunami in Northern Japan. Subsequently this group performed at the first anniversary last year and after performing again this year for the 2nd time, will travel to Japan in late March to perform in Northern Japan in aiding the relief efforts there that continue to this day.
The concept behind this group is very much in the tradition of Jazz, truly an American art form. This group is comprised of Japanese (now US citizens) who live in the US and also Japanese Americans who were born in the US. Thus, this group is made up of Japanese and Japanese Americans musicians raised in this country, learning the jazz vocabulary in the US and retooling and reinventing songs from their native land in the jazz idiom. The group has completed a CD dedicated to and in commemoration of the tragic events in Northern Japan. All of the material on the recording are jazz interpretations of traditional Japanese folk melodies that date back as long as a century ago. The incorporation of these Japanese folk elements is part of the long tradition of American jazz artists interpreting songs of American popular and folk songs ie, Miles Davis recording, "Bye Bye Blackbird," to John Coltrane interpreting the well know song from the Sound of Music, "My Favorite Things." In Otonowa's interpretations, traditional Japanese instruments are also employed, like the Shakuhachi, the traditional Japanese flute and the fan drum, an instrument that is popular in festivals throughout Japan, along with the piano, acoustic bass, and drum set. The educational component of this presentation expands the concept of American Jazz. It exemplifies the cultural diversity of a country like the US and also reaches internationally utilizing songs and melodies from foreign shores, in this case Japan. These methods are not new or revolutionary. What makes this group unique is that the members have learned their craft here in the US and seek to interpret songs of their Japanese ancestry in a uniquely American way.