Ai San San - Love's Radiance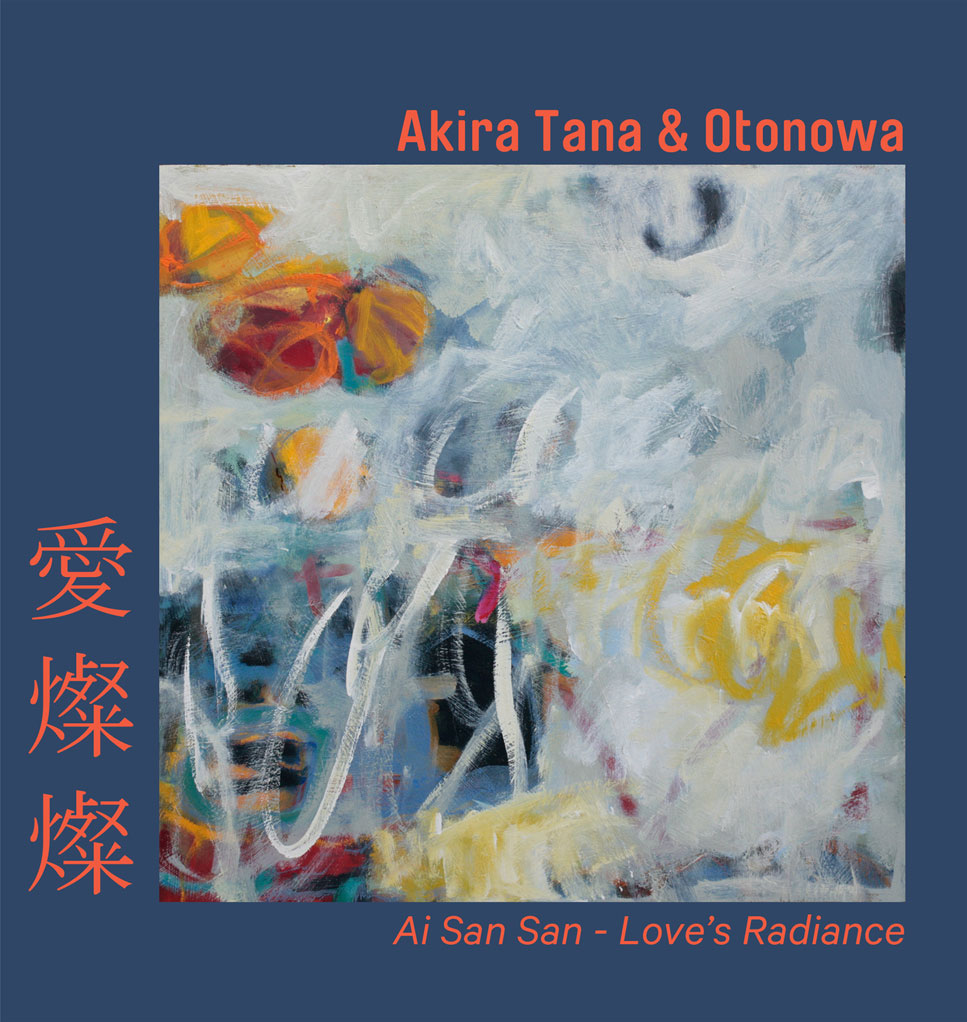 1. Antagata Dokosa (4:51)
Traditional / Arranged by Noriyuki Ken Okada
2. Ai San San (5:59)
Kei Ogura / Arranged by Art Hirahara
3. Hinokuni Ryojo (5:35)
Kouichi Iwashiro / Arranged by Masaru Koga
4. Habu No Minato (5:25)
Shimpei Nakayama / Arranged by Art Hirahara
5. Mura Matsuri (5:41)
Noei Minami / Arranged by Noriyuki Ken Okada
6. Hamabe No Uta (4:33)
Tamezo Narita / Arranged by Art Hirahara
7. Summer (Theme from Kikujiro) (4:55)
Joe Hisaishi / Arranged by Noriyuki Ken Okada
8. Taiyo Ni Hoero (5:18)
Katsuo Ohno / Arranged by Noriyuki Ken Okada
9. Tsunagareta Tairyo-bata (7:04)
Tetsuya Tatsumi / Arranged by Tetsuya Tatsumi/Otonowa
10. Kando (for Chris Iijima) (4:20)
Akira Tana / Arranged by Akira Tana
11. Peace (5:27)
Horace Silver / Arranged by Masaru Koga/Otonowa
About the Album
Otonowa was founded in 2012 by four American musicians of Japanese descent in response to the Great Eastern Earthquake/Tsunami of March 2011 that devastated coastal regions of Northern Japan (Tohoku) claiming over 20,000 lives. Our mission is offered as an homage and in respect to the victims and survivors to that event. On this, our third collection of songs released on CD, we have continued to expand our interpretation of songs related to Japan, both traditional and popular, in the American jazz tradition. The songs on this CD include themes from Japanese film and television shows to traditional, folk and pop melodies that go back decades. There is also one original composition that pays tribute to a pioneer in the Asian American Movement, Chris Kando Iijima. We have made several visits to Japan, sharing our music with the people of the still rebuilding areas, letting them know that their collective and individual suffering and losses are not forgotten. We hope our music plays some small part in bringing people together and healing some of the wounds inflicted on the communities of Tohoku on March 11, 2011.
Antagata Dokosa
A traditional children's ball bouncing rhyme, and one of the most well known songs from Kumamoto. Antagata Dokosa translates to "Where are you from?" Arranged by Noriyuki Ken Okada
Ai San San
Translated as "Love's Radiance", the title track of this album is an arrangement of a popular song in Japan from the mid 1980's, made popular by an iconic Japanese vocalist Hibari Misora. The song talks about the wonders of life as it adoringly embraces the sadness and the happiness we share as human beings. "San San"can be described in many ways including "radiating", "sprinkling", and "shimmering". Art Hirahara captures this subtle yet complex nuance in his masterful arrangement.
Hinokuni Ryojo
This popular song from the 1970's came to be embraced as the "Prefectural Song" of Kumamoto". Each of the many verses in the original lyrics nostalgically talked about a specific region in Kumamoto. Arranged and reimagined by Masaru Koga
Habu No Minato
This song was composed in the 1920's to a sentimental poem written by Ujo Noguchi, about life in Habuminato, a remote fishing harbor on Izu Oshima. Reimagined by Otonowa to capture the nostalgia and reconnect it to the Japanese diaspora in the present. With guest artist Shoko Hikage on Koto.
Mura Matsuri
Written in 1912, this folksong is about a celebratory village festival (Mura Matsuri) to honor good harvest and the guardian deity of the village. Playfully arranged by Noriyuki Ken Okada, to the form of "St. Thomas" by the Legendary Sonny Rollins.
Kando
"Kando" is the middle name of Chris Iijima, a close friend of Akira Tana who passed away in 2005 at a relatively young age of 57. Here is his Wikipedia entry: " Chris Kando Iijima (1948–2005) was an Asian American folksinger, educator and legal scholar. He, Joanne Nobuko Miyamoto, and Charlie Chin, were the members of the group Yellow Pearl; their 1973 album, A Grain of Sand: Music for the Struggle by Asians in America (originally recorded on Paredon Records now Smithsonian Folkways was an important part of the development of Asian American identity in the early 1970s.
AsianWeek columnist Phil Tajitsu Nash stated that when hearing the album or Yellow Pearl perform live, "From Boston to Chicago to San Francisco to Honolulu, Asian-derived people who had been classified in the Census as "Other" suddenly realized that they had an identity, a history, and a place at the table."[1] Iijima sang a song from the album on the Mike Douglas Show, co-hosted with John Lennon and Yoko Ono on February 15, 1972.
Iijima was a founder of Asian Americans for Action, one of the first Asian American-focused civil rights organizations of the 1960s.[3] Iijima later became a law professor and wrote about discrimination against Asian Americans, Native Hawaiians and members of other racial groups.
A documentary on Iijima's life, A Song for Ourselves, by Tadashi Nakamura premiered on February 28, 2009 in Los Angeles. The Chris Iijima Fund is an endowed fund supporting cultural and economic diversity at the Manhattan Country School where Iijima taught for ten years.
"Kando" was composed for a benefit concert for the Chris Iijima Fund held in New York City.